"The Very Essence of Nightmare"—The Battle of Plymouth, NC, and the Destruction of the CSS Albemarle, pt. V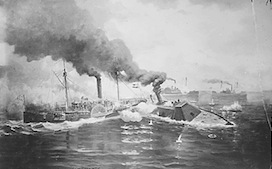 We are pleased to welcome back guest author Sam Smith for the final part of his series
In October of 1864, Lieutenant William B. Cushing, an old friend of the late Captain Flusser, embarked on a daring raid to destroy the ship that had so bedeviled the Federal occupiers of Plymouth, North Carolina. With 22 men and one small steam launch fitted with a single howitzer, Cushing made his way from Norfolk, Virginia to the mouth of the Roanoke River. In the moonlight of October 28, Cushing attached a "spar torpedo," a 14-foot pole with a bomb affixed to the end, to the underside of his craft and pushed off towards Plymouth.[i]
The commandoes were spotted as they steamed past the wreck of the Southfield and they soon were subjected to a withering fire. In a brief lull, a Confederate picket called out, demanding to know who was manning the boat. "All my men gave comical answers," Cushing remembered, "and mine was a dose of canister from the howitzer." The Union boat dashed towards the Albemarle and the crewmen placed the torpedo against her hull.[ii]
Cushing stood upright in the bow of his little boat, "clothes perforated with bullets," with the lanyard in hand. One of the Albemarle's huge guns swung towards him and his crew; Cushing could hear the commander inside ordering the gunners to fire.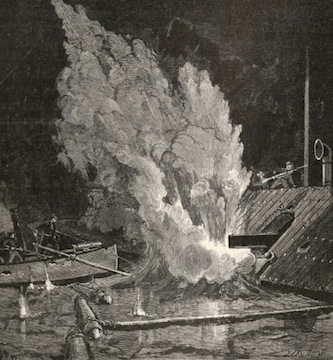 Cushing pulled the lanyard at the same instant: "The explosion took place at the same instant that 100 pounds of grape, at 10 feet range, crashed among us, and the dense mass of water thrown out by the torpedo came down with choking weight upon us."
The Union men were flung from their boat as Confederate riflemen renewed their fire. The Albemarle began to sink rapidly, with a six-foot hole torn under her water line. Cushing stripped off his gear and swam for it, "while the whole surface of the stream was plowed by grape and musketry."
One man was killed in the water beside him. Confederate boats began to pick the Union commandoes out of the river. Cushing continued to swim until he heard one of his comrades cry out nearby. He turned back, satisfied that if he was to die at least it would be in the service of a friend. He hauled the exhausted commando for ten minutes before the man struck out on his own and "sank like a stone."
Throughout the night and next day, Cushing had several near misses with Confederate search parties. He finally stole a skiff from under the noses of a half-dozen pickets and paddled, by his count, for ten straight hours for twelve miles before reaching the Union flotilla in the Albemarle Sound. Only one other man of the 22 escaped—the rest were killed or captured.[iii]
Without its iron guardian, Plymouth was swiftly recaptured by the U.S. Navy. Attempts were made to send a Union column up the Roanoke, but Confederate resistance along the river ultimately prevented a large-scale offensive.
Many families of the Plymouth Pilgrims returned to their one-time refuge as the years went by. They rebuilt and resettled the landscape. The swamps and riverbanks are forever tinged with tragedy, heroism, and hope.
————
Sam Smith is the Education Manager for the Civil War Trust. A native of Nashville, Tennessee and a graduate of the University of North Carolina, Sam's educational background embraces American history, pedagogy, and experimental theater. After working in Chapel Hill public schools, he is now focused on exploring new methods of learning history through active participation, decision making, role playing, and simulation. He oversees the manifold K-12 educational programs provided by the Civil War Trust. An award-winning board game designer, Sam has also written or co-written more than thirty articles on Civil War subjects and is a frequent lecturer at the National Museum of American Jewish Military History.
————
[i] Cushing, William B. "The Destruction of the Albemarle." Civilwar.org. Civil War Trust, 2013. Web. 29 July 2014.
[ii] Ibid.
[iii] Ibid.
---
---