ECW on C-SPAN 3: Fort Stevens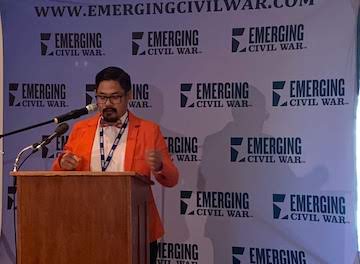 C-SPAN 3 has a ton of great content coming up on the next few days from Emerging Civil War and our sister site, Emerging Revolutionary War.
First, from the Sixth Annual Emerging Civil War Symposium at Stevenson Ridge, Steve Phan's talk on Fort Stevens!
Steve's talk will debut Saturday at 6:00 p.m. ET and re-airs at 4:00 a.m. ET on C-SPAN 3. You'll then be able to see it online here: https://www.c-span.org/video/?463239-12/1864-battle-fort-stevens
Chris Mackowski's talk on Mine Run will re-air Sunday morning at 10:00 a.m. ET. That will also be available online here:
https://www.c-span.org/video/?463239-11/1863-battle-mine-run
Also, next Monday starting at 8:00 p.m. ET, C-SPAN 3 will air three Emerging Revolutionary War programs back-to-back-to-back. Those programs will all re-air again in the overnight in the same order starting at 1:10 a.m. ET.
8:00 p.m.: Boston & the Road to Revolution, 1770-1775
8:44 p.m. Revolutionary War-Era Clothing & Tailors
9:45 p.m. Origins of the American Revolution
You'll be able to find them online here:
https://www.c-span.org/video/?464791-2/boston-road-revolution-1770-1775
https://www.c-span.org/video/?464791-3/revolutionary-war-era-clothing-tailors
https://www.c-span.org/video/?464791-4/origins-american-revolution
---
---