Discoveries in a Civil War Photograph
Alright people…I've gone down a rabbit hole and you're going to have to humor me. Don't roll your eyes…you've done it before, too. A few weeks ago I shared a story about the threatened invasion from Canada along Lake Erie and the subsequent Federal response at Erie, PA. In that post I shared a photograph of Deens' Company, Departmental Corps, Department of the Monongahela. This photograph had previously only been published in a handful of local publications. If you can't recall, here's the photo in question…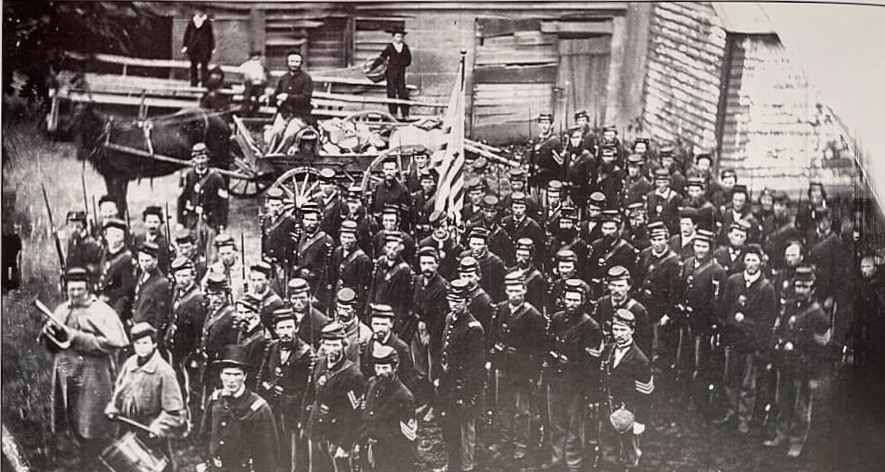 As I began to dig into the Departmental Corps, I started to think more about this photograph. Some had previously attributed the photo to July 1863 when the company was arrayed to defend a vital railroad trestle from John Hunt Morgan's marauding raiders, but that never sat right with me. After all, you can spot a few men in this photo wearing greatcoats. So we know the photo was taken during colder weather.
So then I got to thinking…cold weather, greatcoats…could this photo have been taken during the November 1863 Erie expedition? We know that the company was organized in July 1863 and mustered out November 1, 1864. So being under arms for only one winter we're looking at a small window of time when the company would have been wearing their greatcoats – late 1863 through early spring 1864.
We know from a letter published in the Belmont Chronicle on November 26, 1863 that the company was not issued greatcoats until arriving in Erie on November 13. OK, so there are at least four soldiers visible wearing greatcoats…the photo must have been taken on their return from Erie, right? Possibly. But we also know from that same letter that for the majority of their journey to and from Erie, the company was transported on the Central Ohio Railroad, which provided the company with cold, drafty stock cars. If the photo was taken on their return from Erie, before breaking ranks to head home, I would wager that a greater majority of the company would have been wearing their greatcoats. Even still, I can't account for those four soldiers who already had their greatcoats.
The photo as originally published is identified as having been taken in Barnesville, Ohio, where the company was headquartered. From that same letter in the newspaper we know that the company had been formed up in Barnesville and ready to depart for Erie on the morning of November 12, but that the railroad cars were not ready until 3:30 that afternoon. General William T.H. Brooks, commander of the Department of the Monongahela, specifically calls out the Ohio companies in his official report as having been delayed due to the railroad. So these men would have had several hours to have had the photo taken while waiting on the cars.
So while I certainly can't prove it, I would wager that this photo was taken on November 12, 1863.
And like your favorite infomercial…but wait! There's more! After establishing when the photo was likely taken, I got to thinking about who I could identify in the photograph. After all, this company was under arms for less than sixteen months. The company rolls show only 101 men, including enlisted, commissioned and non-commissioned officers. There was very little turnover among the rank and file, with no recruits to speak of and one death. At least 15 men were transferred to other regiments, but all of these transfers came in 1864, or after the photo was presumably taken.
So based on the roster and the presumed date the photo was taken, can we identify anyone in this photograph? As it turns out, we can!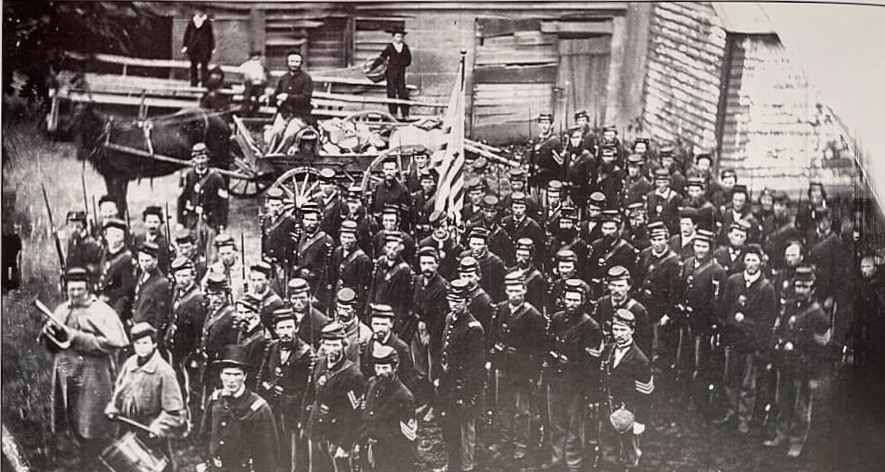 In the lower left foreground, you'll notice the Captain and namesake of the company, Reverend James L. Deens. Born in Ireland in 1820, Deens was a Methodist minister of the Ohio Circuit who took charge of the Barnesville Methodist Church in 1863. Later that year Deens organized a company for the newly-formed Departmental Corps and was named Captain. He was mustered out with the company in November 1864 and later removed to Beaver County, Pennsylvania.
For comparison, here's a photo of Deens later in life.
I think that's a match…
Standing next to Deens at the head of the company are two musicians. As it turns out the company only had two musicians during its term of service – French Hunt, 18, and Robert Burrough, 28. There is an obvious age and height difference looking at the two, so I think we can safely identify each.
The drummer, standing closest to Deens, is Elias 'French' Hunt, who stands at 18 on the company rolls but who was actually born in 1850, making him only 12 or perhaps 13 years old when this photo was taken! In February 1864 Hunt would transfer out of the company into Company B, 9th Ohio Volunteer Cavalry, where he served as a Private until being mustered out in July 1865 at only 14 or 15 years old. He would find trouble after the war, serving several stints in the Ohio Penitentiary, before applying for a pension in 1886, after which I've lost track of him. Hunt's February 1864 transfer out of the company further narrows the window when the photo could have been taken.
The other musician, holding the horn, would be Robert Burrough, a 28-year-old grocer from Barnesville, Ohio. Robert was mustered out from the Departmental Corps in November 1864. He died in 1879 at Zanesville, Ohio.
So who else can we identify? How about the guy on the wagon? Company rolls show only one wagoner – Robert J. Lewis, also 28 years old. Robert had three brothers who served in other regiments, including one who died at Nashville in June 1864.

Standing to Deens' left in the foreground is First Sergeant Joseph W. Bridgeman. Born in Lancaster County, Virginia in 1827, he later removed to eastern Ohio where he worked as a laborer. He served as First Sergeant in Deens' Company until November 1864.  He spent the final three years of his life as a resident at the Ohio Soldiers Home in Sandusky.
There are others in the photo, specifically the lieutenant standing behind Bridgeman, as well as some of the non-commissioned officers that I have hunches on, but there is more uncertainty there than with those whom I've outlined here.
I realize that this particular company of this particular 'corps' of a backwaters department played only a marginal role in the Civil War. But that's also what makes this photograph unique. To be able to identify with a high degree of certainty the names of several of the rank-and-file in a wartime group image is fairly rare. The photo is also a good study of the men who enlisted in the summer of 1863 in the emergency militia, national guard and departmental companies who were thrown against John Hunt Morgan in Indiana and Ohio and Robert E. Lee in Pennsylvania. Look at the ages on some of these guys faces. A full 25% of this company was over 40 years of age. Whereas your average Civil War soldier was 25.8 years, the average age in this company was nearly 31, and even that was a skewed down by a handful of eighteen-year-olds. The company is obviously a bit longer in the tooth and you can see it on their faces.
Thank you for humoring me as I climb out of the rabbit hole. If you have an itch, scratch it!
---
---