Civil War Cooking: Pumpkin Pie — From Field to Table
Take a pumpkin, make a pie. Mrs. Lydia Child's explains how this was done in the mid-19th Century in her book The Frugal Housewife:
For common family pumpkin pies, three eggs do very well to a quart of milk. Stew your pumpkin, and strain it through a sieve, or colander. Take out the seeds, and pare the pumpkin, or squash, before you stew it ; but do not scrape the inside ; the part nearest the seed is the sweetest part of the squash. Stir in the stewed pumpkin, till it is as thick as you can stir it round rapidly and easily. If you want to make your pie richer, make it thinner, and add another egg. One egg to a quart of milk makes very de cent pies. Sweeten it to your taste, with molasses or sugar; some pumpkins require more sweetening than others. Two tea-spoonfuls of salt; two great spoonfuls of sifted cinnamon; one great spoonful of ginger. Ginger will answer very well alone for spice, if you use enough of it. The outside of a lemon grated in is nice. The more eggs, the better the pie; some put an egg to a gill of milk. They should bake from forty to fifty minutes, and even ten minutes. longer, if very deep.
I've actually made pumpkin pie from scratch before, and it was an annual family tradition at the end of October when I was growing up. Then, with the advantage of a food strainer, we could get smooth, fiber-string free pumpkin to make into the filling with my mom's secret recipe that has been perfected over the years. To do a 19th Century recipe justice, though, I knew I would have to make-do without the electric processor and without the corn syrup. I decided to follow Mrs. Child's recipe to the letter and see what happened.
Since I don't have a farm and foraging is frowned upon, I got my pumpkin at the local farmer's market and then it was "vegetable butchering time." With the seeds scraped out and the rind peeled off, the pumpkin got cubed and tossed into a pot on the stove to boil until soft. Once drained and cooled, I mashed the pumpkin, first with a spoon, then with clean hands and it actually got smooth and not too stringy.
I've never made a pumpkin pie with molasses or lemon zest before. While mixing it up, I thought I put in too much…only to learn I should've put in a lot more molasses or maybe a little sugar, too! The rest of the filling was pretty standard, though I used fresh cream instead of milk or canned condensed milk. I opted for "the family pie crust recipe", though I used part whole wheat flour to give it a coarser taste, probably more like an 1860's baker would've made.
The pie looked beautiful, but could it pass the taste test. I let it cool to room temperature, cut a generous slice, dressed it up with whipped cream and dried cranberries and took that first bite.
Well…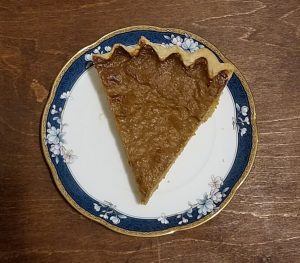 It tasted "historical." If you've done old recipe cooking, you probably know what I mean. It's not bad. But it's not good either. It just tastes "off." The texture was good and fairly normal for pumpkin pie, so that was nice. Eventually, I decided it needed a little more sweetener "to taste." Remembering that recipes can improve with time, especially if there are spices, I put the pie in the refrigerator for a couple days and tried it again as time went by. The flavor did improve and ultimately I would be willing to try the recipe again and see if I could get the filling a little sweeter.
Pumpkin pies feature in soldiers' letters, particularly the Northern troops, as they wished for or reminisced about desserts at home. One soldier even wrote a VERY LARGE recipe for a pumpkin pie. Talk about feeding an army…or at least a regiment…or a company…or a mess.
Dunn Browne from the 14th Connecticut Infantry wrote that he thought one pumpkin, 8 dozen eggs, and 1 gallon of milk to make his version of pumpkin pie[s]. That's a lot of eggs and milk and one wonders if it was miswritten or if he had experienced exceptionally good foraging and not much kitchen experience?
Whether you have pie enough to feed an army of family today or just a slice or two, I hope your dessert will be delicious and not too…"historic" in flavor. Happy Thanksgiving!
---
---